I'm starting to wear a hole in my old Pearl Izumis, any suggestions would be great thx.
I think the question is which chamois creme is best for those sick skidzor.
These look good…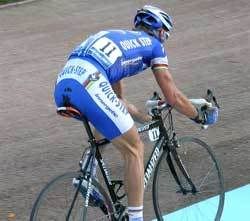 that looks like poop.
or blood
or both, ew.
-j
That is the grossest thing I have ever seen.
OH GOD OH GOD OH GOD OH GOD
HAHAH
Talk about having the "runs".
Guess it's better to shit than to quit.
I now consider this a successful thread.
one year in high school our shirts for cross country said, "we've got a bad case of the runs" on the back. those were awesome. it is too bad i now have a mental image to go with.
I'd guess that's vomit on the runner but I'm not sure I want to know.
I know a guy who does supermarathons and when he has to piss during a race, he just lets fly pooping is a different story. They don't poo.
He told me that once while he was doing a training race, he was about fifty miles in and he lost conciousness, but kept running and regained conciousness thirty miles down the road, way off course, in a roadside ditch.
I love the looks of the people in the background of that pic. They're all like "EEEEEWWWWW!!! Disqualify that stinky bastard!"
HAHAHAHAHAHAHA i totally want to tile that across my desktops at work.
Do it jim, you goddamn son of a bitch.