My Alien is cool but I'm the type of guy who doesn't keep the daily fixed bike around for more than a year or so without looking to something new. I guess I'm the equivalent of the guy who trades in his car for another one every 3 years… anyways, I'm stuck between two build ideas for my next bike. Help me decide Tarck…
In one corner is the Kazane.
Pros: can probably get cooldudebro hookup deal of $450 for fr/fork. The frame is not that different from my Alien other than being a no-brainer upgrade on a few parts - stiffer/lighter through the oversized lugged steel/thinner tubing walls. Threadless instead of threaded. I think I'm at the point where I could care less about ever owning a threaded bike again… even old lugged road bikes look fine or better in my eyes with a Thomson stem. Building it up as the daily rider/track racer backup/sprint training bike. Not really ideal for anything over 25-30 miles though… but something along the lines of a Hopkins-inspired build, minus the ballin' carbon wheels:

In the other corner… a Steamroller. Thought I'd never own one but hey, this picture got me so hot and bothered the first time I saw it that the idea of doing a tracklocross build has laid dormant in my head for a solid year now: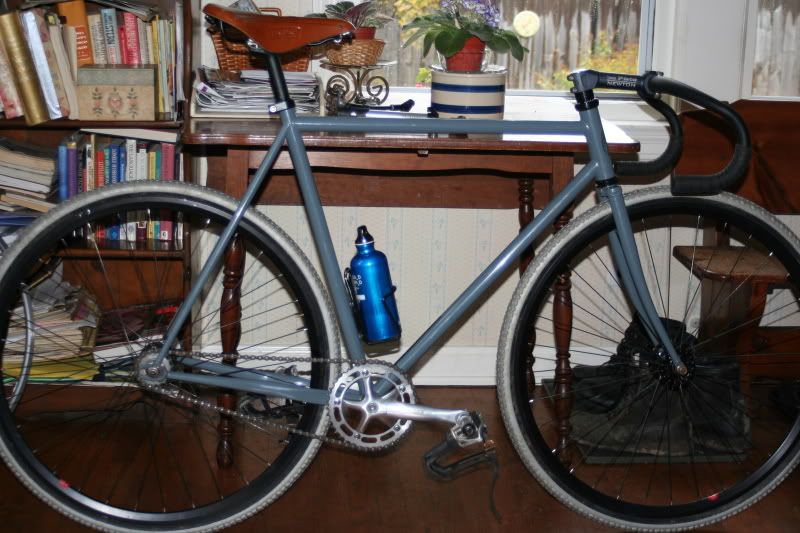 Can probably get the frame/fork for $320 through team discount on QBP, and I'm in the works of getting a ridden-once Crosscheck fork today for $30 (!!!) that would make a great canti setup for using the bike off-road. Could probably bring that price down even further by selling the stock fork off. Rake is only 6mm different… not likely to kill the geometry.
Pros: Way more versatile. Ride it fixed on the singletrack/cross rides with knobbies, then throw some 700x30 slicks on for winter commuting/road training rides.
Geometry is crit-esque/aggressive road (ST/HT angles anyway), so training rides are a lot more realistic on this thing vs. an Alien or Kazane.
Thirsty-dude bracket for times when carrying water bottles in a jersey pocket is lame.
Practical. Easier to get fenders in there - no more dealing with a front clip-on rubbing the downtube or tire like on the Alien.
Cons: Not much of a track back up bike… not that it's that vital, but it's always nice in case something happens to the Concept.
700x23's look dumb as hell on Steamrollers. About the equivalent to trying to make your 27" road conversion look like a tarcked out track racer in my eyes.
The BB is a little low for a fixed build. Hard to justify putting anything over 167.5's on there, and most likely just 165's (the BB drop is 70mm… standard for road, but 60mm or less is far better for a fixed gear to avoid pedal strike IMO).
Not lugged, and trading in the Alien would mean not owning any lugged steel in my collection… I could probably live with that pretty easily, but it's worth saying.
A little heavy on the build… but more comfortable.
Can't set it up vis-a-vis to the Concept quite as easily as far as to make it easy to train track/sprint technique on one bike and then transfer it to the other - geometry is different. But maybe that's just picking straws - adapting to different bikes really isn't that hard after a few minutes.