Hey anyone going to this?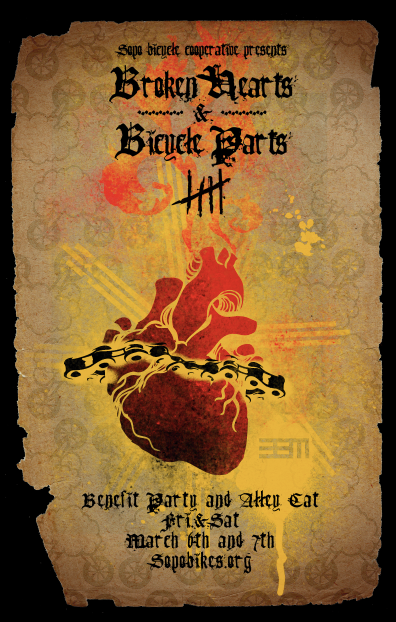 Its basically a two-person alleycat to support the bike co-op in Atlanta. My gf and I will be heading down for the weekend and it'd be pretty sweet to meet up with some tarckers or at least having some of the natives give us suggestions of stuff to do during the down time. This is the email I got about it:
In East Atlanta, there is a place called Sopo. It's a community bike shop. Basically they collect donor parts, frames, etc, and provide a place where people can build their own bike, learn how to properly maintain and repair their bikes, and provide a forum for general bicycle awareness and community. It's basically free. They ask for a donation, but if you can't afford it, it's not a big deal. They take services on trade, or whatever. It's very community oriented.
That being said, on March 6, Sopo is having their annual Broken Hearts and Bicycle Parts weekend. It will include Friday night parties and bands at bars in East ATL, and Saturday there is a costume alleycat race, with after parties. it should be a really good time. The bike scene in ATL is great, people are totally cool, and there are a TON of hipsters for you guys to trade fashion tips with.
I'm gonna head down there for it, and I am testing the waters to see if any of you would want to tag along.
http://www.sopobikes.org