so fucking trek
i love the quick released left brake lever.
edit: both brake levers.
They're both quick released, actually. And the best part is that it took me like 3 rides to notice. I just thought that the bars were weird, but it turns out that I'm an idiot. And the bars are weird.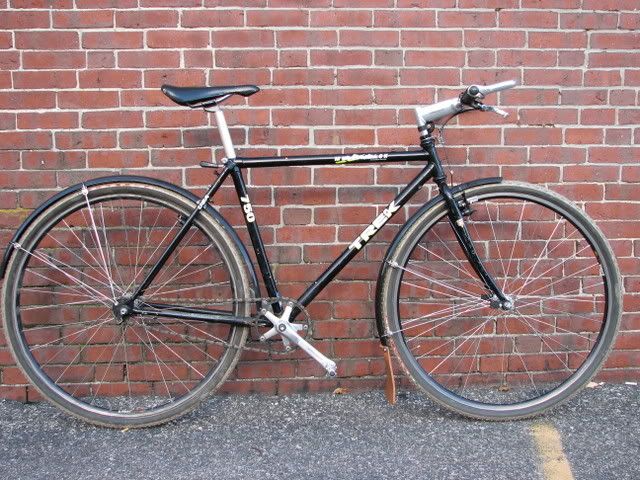 [quote=Elderberry]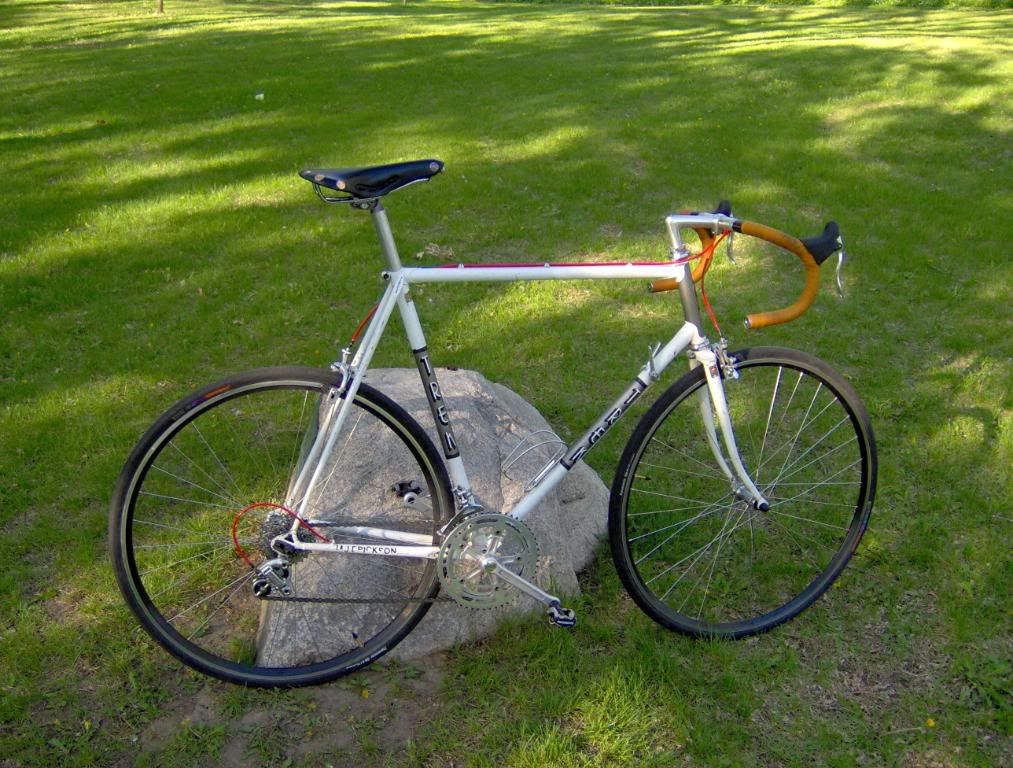 Trek as Fuck can mean a lotta things.[/quote]
This is one of my favorite bikes on this site. Props.
favorite conversion ever, from vintage-trek.com.
"This Trek, from what I seen from credible sources (in contrast to what my memory tells me), started life as a TX900 (Columbus tubing and the fastback seatstay). I purchased the frame/fork alone from a shop in Northern California, but don't recall what the price was. It came from the factory with a nice metallic blue finish, and few braze on options. I assembled it with mostly Nuovo Record, that it wore for a couple of years. Somewhere along, I concluded that it really needed top tube cable guides, and a bottom bracket cable guide, so to the brazers it went. It rolled around for a couple of years with the same blue paint job, with new large primer sections, and new braze ons. I believe it was another two years in, that the notion of riding 'cross seemed like a good idea, and the Trek was elected as the mount. To the brazers it went again, for the canti bosses, and a new paint job. It only ever saw two 'cross races, but a lot of 'winter bike' duty."
"Structural notes that could be made - Upon examining the fastback, one would notice the rear brake cable housing stop. That was added when the canti bosses were attached. As can be seen by the first photo, it is a fixed gear these days. It's actually been converted to fixed twice (the first time, it ended up with gear/derailers again after one year). These days, it's strictly a 'go fer' bike, which sort of explains the SPD pedals. T As of this writing, the bike is going to have a rear rack added."
"I realize that if the two guys that founded TREK see this, I should probably start running, and just keep going

It just goes to show just what a perfectly good frame can mutate into given an unsupervised cyclist free reign. If the frame on this breaks tomorrow, I will figure I have gotten more than my moneys worth. It will always be part of my collection, even if it sits broken in a corner, or as the base of a lamp. Or maybe just as a 'go fer' bike… Who knows."
ftfy[/quote]
Indeed, the old lugged stuff was very cool.
I'm sure that nobody has seen one of these recently:
You know, say what you will about modern Treks, but the Madone is a great bike that compares to any carbon fiber offerings from any manufacturers. And unlike much of what's out there, Madones in the 5 and 6 series are all made-to-order (either by customer or by shop request) in Waterloo, by hand.